Audacity is free and open-source software, easy-to-use, multi-track audio editor and recorder for Windows, Mac OS X, and GNU/Linux operating systems. It is absolutely one of the most known, used, and appreciated utility of modern computing and if you are a musician for sure you will know it well, but even if you are not you will have surely heard about it.
For a few days, the new major release of Audacity has been released and, we must say, the wait has been worth it. Audacity 3.0.0 remains the same super-powerful open-source and cross-platform multi-track audio editor but, as a major update, introduces a new save file format, as well as numerous improvements and bug fixes.
The new version changed the format in which the software saves the Audacity projects
The new .aup3 file (from .aup to .aup3.) does contain the data but it uses an open-source database, SQLite3, to store everything in one .aup3 file and not a large number of small files like happened with the old format. SQLite3 is open source, and it is a delight to work with. Nevertheless, this was a huge change, and the developers decided it was too risky to include many other changes at the same time, so Audacity 3.0.0 is almost entirely about this big format change.
Importantly note that you can open your older .aup projects in Audacity 3.0.0 where they will be converted auto-magically to the new .aup3 format. Also, editing audio should on most machines be a little faster than before, because there are fewer files being worked on.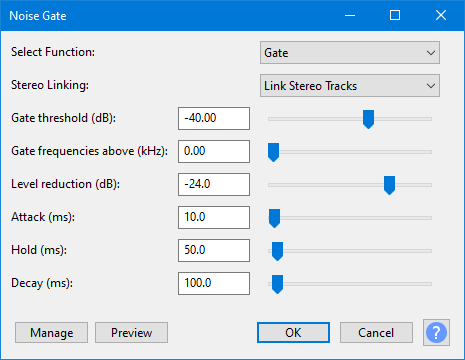 Another improvements from the official release note:
Label Sounds & Noise Gate

We did have time to improve our 'Noise Gate' effect and add a new analyzer, 'Label Sounds', that can label sounds and silences. We also made a few small tweaks elsewhere. You can now import and export macros, and there are a couple of new commands for using the last used tool or last used analyzer that you can give shortcuts to.

Bugs fixed

We also fixed over 160 bugs that had been accumulating over the years. This is quite a staggering amount of work. The majority of these bugs were minor problems, easily worked around. Some though were really juicy high priority bugs that would have mattered a lot to the people affected by them. We're really glad to have these bugs fixed now.

Audacity 3.0.0 Released Posted on March 17, 2021 by James Crook
You can find also a new Backup command for projects.
File > Save Project > Backup Project command that saves a copy of the current project as an AUP3 file, but with a new name. It is the safe and recommended way to make a safety backup copy of a project as you work on it.
This could serve either as a single backup copy of the project, or as one of several incremental copies of the project in the state it had at a particular date and time.
Unlike "Save Project As…" using this command will leave your current project open enabling you to continue working on it.
A new analyzer has been introduced called Label Sounds. It supersedes and replaces the old Sound Finder and Silence Finder analyzers. Label Sounds is a tool that can useful to label the different songs or sections (or silences) in a long recording, such as the tracks from an LP or cassette.
This analyzer is an upgrade of the old Sound Finder from previous versions of Audacity. It is more accurate, and more versatile than previous versions, supporting both region labels and point labels.
How to download, update and install Audacity multi-track audio editor
Audacity version 3.0.0 is primarily a release for a unitary, single self-contained, project file; but you can find an overview of prominent new functionality that has been introduced in Audacity 3.0.0 in this New features in this release Page.
You can install or update Audacity from the official website Download Page or directly from your preferred distribution console:
$ sudo dnf install audacity #Fedora
$ sudo zypper install audacity #openSUSE
$ sudo apt install audacity #Debian/Ubuntu
Audacity 3.0.0 is also available as flatpak or as a snap, you can find it on the official Snapcraft store and on the official Flathub store.
Little more to add, Audacity is and remains one of those tools that you cannot do without, a piece of software that has made the history of modern computing. If you don't know it, run to download it and try it out. If, on the other hand, you already appreciated it, delight in this new version that will amaze you even more with its new features, its improved speed, and its incredible stability confirmed. Here we go!
References and Resources